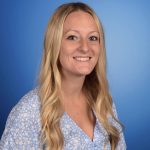 Ms. Ashley has been with us for almost 3 years. She is kind, fair, and even keeled. She is often laughing and signing along with the kids. We are lucky to have her!
I became a teacher because...
When I was a young child I used to line my stuffed animals up in my room and play teacher. As I got older, my passion for teaching grew each time I had an inspiring teacher who made learning fun! I went to college and I knew I wanted to make a difference in children's lives and help them reach their full potential. Teaching fills my life with purpose and love.
My Educational Experience is....
I have an Associates degree in Early Childhood Education from Schoolcraft College. I am currently enrolled at Eastern Michigan University, to complete my Bachelors degree in Early Childhood Education.
A Person who Inspires me is...
My Favorite Subject ....
Science
My Favorite Super Hero is...